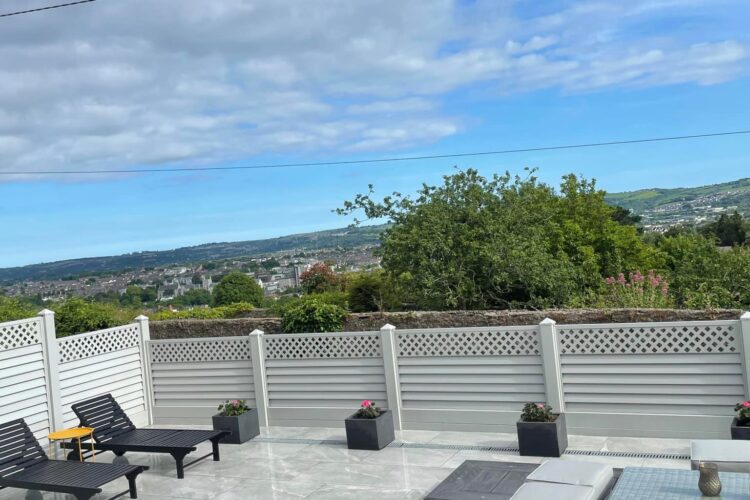 Durability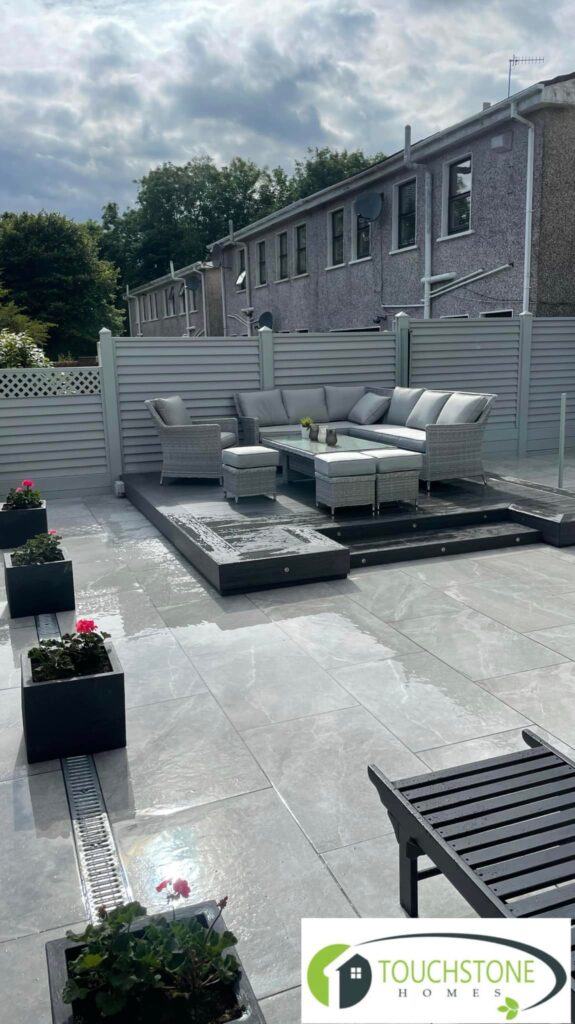 One of the main advantages of outdoor porcelain tiles is their durability. Unlike natural stone or concrete paving, which can crack or fade over time, porcelain pavers are extremely strong and resistant to wear and tear. They are able to withstand heavy foot traffic, extreme temperatures, and harsh weather conditions without losing their colour or integrity.
Low-Maintenance
In addition to their durability, porcelain pavers are also low-maintenance. Unlike natural stone or concrete pavers, which require regular sealing and cleaning to maintain their appearance, porcelain pavers are virtually maintenance-free. They are resistant to stains and moisture, so they do not require regular sealing or cleaning. This makes them a convenient and hassle-free option for outdoor surfaces.
Stylish
Porcelain paving is also stylish and versatile option for outdoor surfaces. The outdoor tiles come in a wide range of colours, styles, and patterns, so you can choose the perfect look for your space. From classic stone-look pavers to modern wood-look pavers, there are many options to choose from.
Non-Slip
The most common question we get from people is – "Will the tiles get slippery in the rain?". The answer to this is, thankfully, No. 20mm outdoor porcelain tiles have an anti-slip rating of R11 and above. These floor ratings work on a scale of R9-R13, with R11 and above passing all outdoor anti-slip tests. The slip resistance for floors and floor coverings is determined according to the industrial standards DIN 51130 and DIN 51097, which are used for testing the slip resistance of a tile. The ramp test from this will generate an R-Value ranging from R9 – R13. The industry-standard DIN 51130 is designed for general work areas. The industrial standard DIN 51097 is relevant for wet barefoot areas, i.e. swimming pools, shower, and changing areas. These two German National Standard test methods are adopted here in Ireland and by all European tile manufacturers.
High Quality (In most cases)
Like any product, there are varying levels of quality when it comes to outdoor porcelain tiles. Spanish and Italian-made porcelain tiles are by far the most superior product, with Italian porcelain pavers being the holy grail. The reason for this is Italy and Spain have been manufacturing porcelain tiles for a long long time, An important step in forming outdoor porcelain pavers is the very high temperatures in which they are fired up at. the Italians have this process down to a fine art. Unfortunately like any great product, there will come the threats of cheap knock-offs. In the case of porcelain, inferior quality products from China, Lithuania and Poland have been popping up on the market. The cheaper price on these may be attractive, however when having work done on or around your home, it is important to use the best quality products to ensure a job for life. There is a saying in our industry-"A cheap job ends up being done twice!". The health and financial stress of having a cheap, low-quality job done, is simply not worth it. Make sure your patio area is built to last a lifetime and not one summer. So when it comes to wanting your outdoor living space created, it is much better to be patient and to have your finances in order to afford your job for life.
Eco-Friendly
Finally, porcelain pavers are an eco-friendly option for outdoor surfaces. Unlike natural stone or concrete, which require mining and manufacturing processes that can be harmful to the environment, porcelain pavers are made from sustainable materials and production methods. They are also recyclable, so they can be repurposed or recycled when they reach the end of their lifespan
Conclusion
Overall, outdoor porcelain tiles are a great option for your new patio area. They are durable, low-maintenance, stylish, and eco-friendly, making them a smart choice for any outdoor space. If you are considering porcelain paving for your patio, walkway, or driveway, be sure to get in touch with us today!
Check out our Facebook page for the latest updates! https://www.facebook.com/touchstonehomes