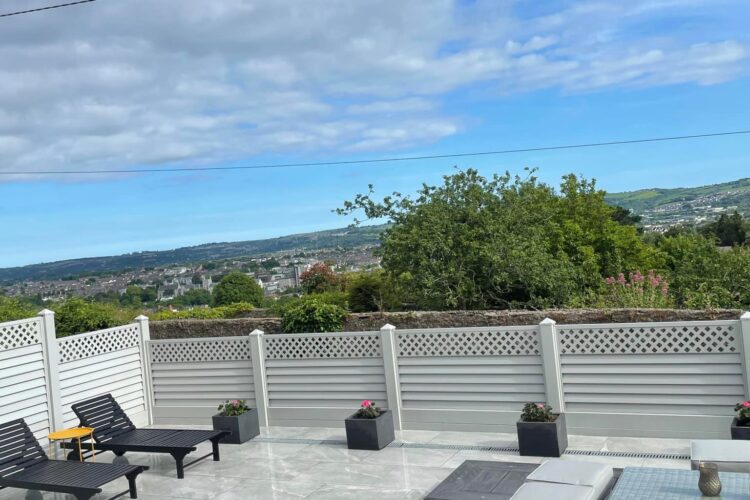 Rise In Popularity
Porcelain paving is now a popular choice for outdoor surfaces, such as patios and terraces in Ireland, due to its numerous advantages and attractive appearance. Made from dense natural clays and fired at high temperatures, porcelain is a durable and low-maintenance material with a long lifespan. It is also frost-resistant and slip-resistant, making it suitable for use in a variety of climates and outdoor conditions. In addition, porcelain is available in a wide range of colours, patterns, sizes, and textures, including natural stone and wood effects, and is fade-resistant, ensuring that it will retain its attractive appearance over time.

Styles
In addition to its practical advantages, porcelain paving is also an attractive choice due to its wide range of colours, patterns, sizes, and available textures. Manufacturers use inkjet printing technology to achieve a range of effects, including natural stone and wood, allowing homeowners to choose a product that perfectly matches the style of their home and garden. Porcelain tiles are also fade-resistant, meaning that they will not lose their colour or vibrancy over time when exposed to sunlight.
Disadvantages
However, it is important to also consider the potential drawbacks of porcelain paving before making a decision. One of the main disadvantages is the cost, as porcelain tiles are generally more expensive than some other materials, such as concrete or natural stone. In addition, porcelain can be difficult to install, and requires a stable, level surface for proper installation. While porcelain is a durable material, it is not indestructible and can chip or crack if subjected to heavy impact or extreme temperature fluctuations, especially cheaper tiles from China and Lithuania. Another problem is the lack of qualified installers In Ireland, with it being so new to the outdoor living market. Porcelain tiles are a stylish choice, but they can be costly to install because they are a hard and difficult-to-cut material. Specialised tools are needed to cut them properly. It's also important to make sure the sub-base is even and factors in the needs of the tiles, as any unevenness could lead to cracks in the tiles. While porcelain tiles may be expensive buy and to lay, they can be worth it for their durability and elegant look.

Budget
When deciding whether porcelain paving is the right choice for your outdoor space, it is important to consider your budget, the level of maintenance you are willing to undertake, and the desired aesthetic of your patio or terrace. If you do decide to go with porcelain, it is advisable to choose a high-quality product and to hire an experienced professional with a proven track-record for installation to ensure a long-lasting, high-quality finish. One of the major advantages of porcelain paving is its longevity. When properly installed and maintained, porcelain tiles can last for decades, with some products boasting a lifespan of up to 50 years. This makes it a cost-effective option over the long term, as it will not need to be replaced as frequently as some other materials

Quality
Porcelain is high-quality product,. this can make it a less budget-friendly option for those working with limited funds. Starting at €250/sqm for your tiles, labour, machinery, waste removal and sub-bases, these projects don't come cheap. With Porcelain Paving being so new on the Irish market, construction companies and landscapers are using old and out-dated practices when installing porcelain patios around Ireland, even in the short-term a litany of issues are appearing in peoples patios that have been installed by unlicensed and unprofessional installers. Unlicensed contractors have been installing low-quality tiles from China, Lithuania and Poland along with poor installation and grouting practices, the repercussions are frightning!. Cracking tiles, lifting tiles, discolouration and so on. The stress that comes from the aforementioned can linger on. Professional tradesmen and landscapers have a saying in the industry – "A cheap job ends up being done twice!". Italian porcelain tiles are of the highest quality, with Spanish-made tiles a close second. Both countries have been working with porcelain for years and have the manufacturing process down to a fine-art. Here at Touchstone Homes we will only install Italian and Spanish-made tiles. Our reputable suppliers ensure correct stamping and guarantees, giving ourselves and our clients piece of mind.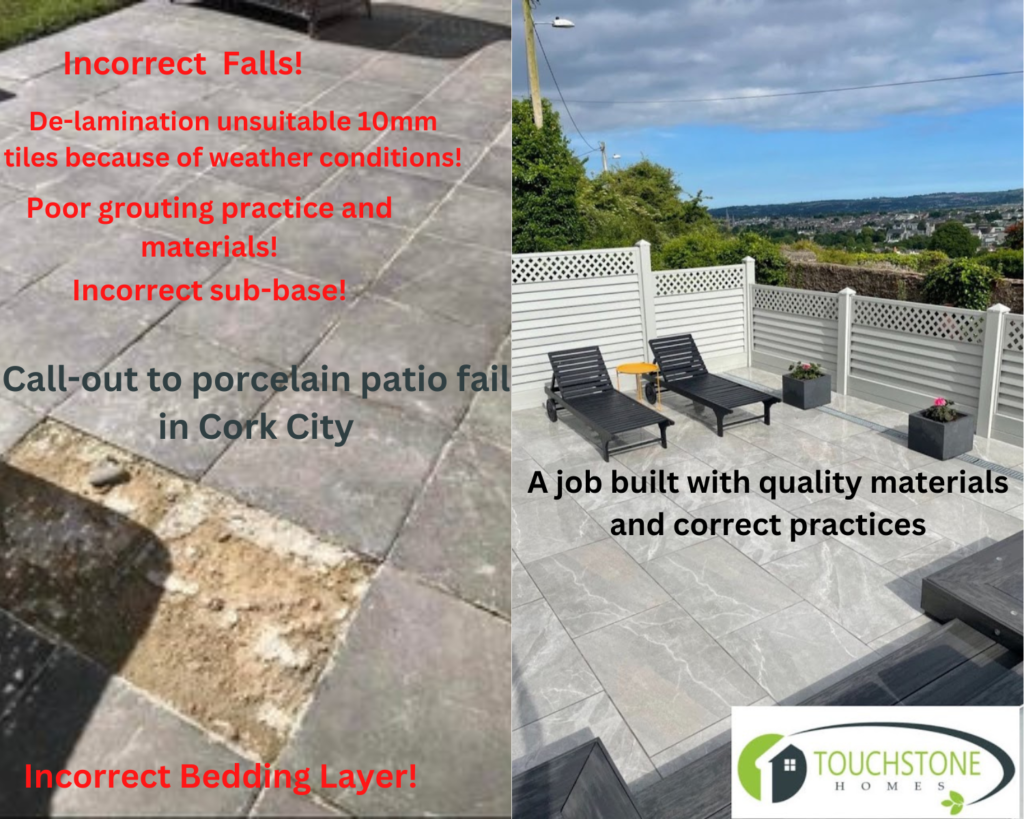 Are They The Same As Indoor Tiles?
No. Porcelain tiles come in two main thicknesses: 10mm and 20mm. While 10mm tiles may have some attractive features, they are not suitable for use in external areas. They are too thin to withstand the weight of heavy outdoor furniture, such as trampolines, tables, and BBQs, kids playing, and they are less resistant to wet conditions, and crack in freezing temperatures(which are now part of the Irish climate), making them dangerous to use. In contrast, 20mm porcelain tiles can handle heavy use and furniture placement without showing cracks, frost-resistant and they have a high anti-slip rating of R11, making them safer to use. For outdoor use in Ireland please make sure your contractor uses only 20mm porcelain tiles folks, you will save yourself and your family a lot of stress!.
Low Maintenance
Porcelain is also a low-maintenance option, as it does not require sealing and can be easily cleaned with a mop and water. The use of a pressure washer from time to time can also help to keep the tiles looking their best. Porcelain's low porosity means that it is resistant to the build-up of algae, moss, and mould, which can make surfaces slippery and unsightly. This makes it a safe choice for areas that may be prone to moisture, such as around pools or in climates with high humidity. Standard tiles start with an R11 anti-slip rating rating. This German standard which is adopted by all European countries ensures a quality product designed for outdoor use.

If you are considering having porcelain patio built, get in touch. We are fully-licensed, insured and a proven track record in Cork City and County. Call/Whatsapp(Tap the Whatsapp Icon on the right to chat to us directly) or on 085-8109678 and check us out on Facebook https://www.facebook.com/touchstonehomes